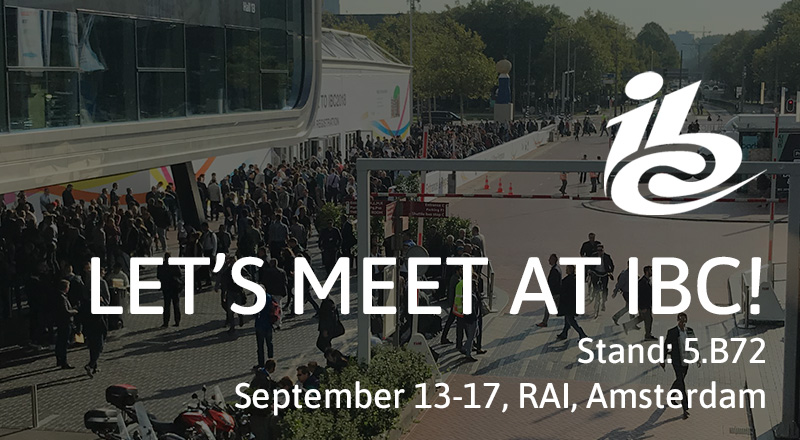 Let's meet at IBC2019!
6 March, 2019
Where? RAI, Amsterdam, stand 5.B72
When? September, 13-17
At IBC2019 we will be showcasing our industry-leading end-to-end solution for real-time video monitoring, analytics and visualization. Our solution empowers operations, product management, marketing and customer facing teams to drive customer satisfaction, lower operational costs and increase agility. Read more about our highlights below or download our exhibitor preview.
Exhibitor preview
Agama Technologies IBC2019 preview_short version
Agama Technolgies IBC 2019 exhibitor preview
Schedule an IBC meeting!
Free entry to the IBC exhibition
To gain FREE entry to the IBC exhibition and an Amsterdam travel pass, care of Agama Technologies, enter our exhibitor customer code 11929 when registering; or, bring this ticket code to RAI and register for free onsite. With discount code EXH20 you'll receive 20% off all conference pass types.
Our event highlights
Agama 360 Analytics for IPTV and head-end
At IBC we will showcase our award-winning solution Agama 360 Analytics. Within its unique view, every stream flow is correlated and visualized across the entire delivery chain in real-time with in-depth KPIs and metrics; from encoding to delivery to STBs, apps and devices – across technologies. The solution enables a deepened customer understanding and makes it easier than ever before to find the root cause of a problem in complex delivery chains.
Read more about Agama 360 Analytics.
ASSURING SCTE 35 TARGETED ADVERTISING AND DIGITAL PROGRAM INSERTION SIGNALING
Ad insert requires time critical signaling for ads to be correctly played to subscribers. Errors on the frame level can cause both visual artifacts and lost ad impressions – causing loss of revenue and lowering customer experience. The Agama ad insertion assurance offering includes the monitoring, validation and visibility needed to assure ad insert services for both multicast and OTT and to ensure an excellent customer experience.
We are extending our end-to-end solution with SDI support
We are extending our end-to-end assurance and analytics solution with SDI support, making it possible to assure the quality of video streams even earlier in the head-end production workflow. The new SDI support will be showcased at IBC2019.
HEAD-END ASSURANCE – AD INSERT, VIRTUALIZATION AND CONTENT LEVEL PERFECTION
A modern head-end processes many new and advanced technologies such as SDI, UHD/4K and SCTE 35 ad inserts. It also creates content for multiple platforms and screens. With the flexibility to deploy on-prem, cloud or hybrid, including containers, Agama can monitor your services wherever they are created.
Read more about Agama's solution for head-end assurance.
REMOTE PHY MONITORING IN MODERN CABLE DEPLOYMENTS
To manage expectations on 'broadcast quality' and to create high speed offerings in the most cost-effective way, the transformation to new technologies and infrastructure is underway. The remote PHY monitoring capabilities of the Agama Analyzer gives full insight into the DEPI streams, from the CCAP core towards the remote PHY devices, ensuring that any issues in stream or content integrity can be detected.
Learn more about how you can ensure remote PHY rollout success through transparency and insights in service performance.
NEW FEATURES, ENHANCEMENTS AND POSSIBILITIES WITH 5.4 – THE LATEST VERSION OF THE AGAMA SOLUTION
We are delighted to present the latest version of the Agama Solution! Version 5.4 adds many new features, enhancements and new possibilities such as automated group creation from metadata, QoS correlation between groups, alarm enhancements, and workflow and usability enhancements – all to drive further insights and a more efficient way of working.
Contact us for more information on the new version and how to upgrade.