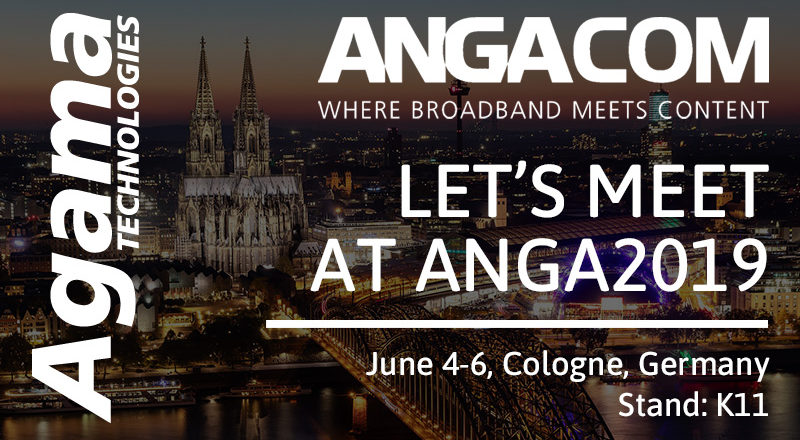 Let's meet at AngaCom, June 4-6!
28 February, 2019
We will exhibit at ANGA COM and would like the opportunity to meet with you and get an update on your activities and to discuss joint projects.
Where? Cologne, Germany
When? June, 4-6
Come and talk to us about
REMOTE PHY MONITORING IN MODERN CABLE DEPLOYMENTS
A successful remote PHY rollout can streamline capacity growth and enable highly competitive high-speed offerings.
The Remote PHY monitoring capabilities of the Agama Analyzer gives full insight into the DEPI streams, from the CCAP core towards the Remote PHY, ensuring that any issues in stream or content integrity can be detected. Read more about our solution for remote PHY.
OTT AND MULTISERVICE HEAD-END ASSURANCE – AD-INSERT, VIRTUALIZATION AND CONTENT LEVEL PERFECTION
The modern head-end creates and processes a multitude of advanced services: Ultra-HD/4k, SCTE-35 ad-inserts as well as creating content for multiple platforms and screens. Head-ends are also quickly transitioning to cloud and virtualized environments in order to increase agility. To maintain customer satisfaction in a complex environment, it is vital to have full transparency throughout this process.
Agama's offering for HE assurance covers all steps in service creation, from mezzanine to packaging and multiplexing: on-prem, virtualized or cloud. With in-depth analysis covering SCTE-35 on linear and OTT formats, as well as the video and audio content itself, we create 24/7 transparency for every delivered stream.
Read more about our solutions for head-end assurance. 
HOW TO GET FULL INSIGHT INTO EVERY CUSTOMER AND EVERY STREAM
With the Agama analytics and assurance platform, you get a complete view of the entire distribution chain in real-time. With full transparency of the service distribution – from service creation in the head-end, across the distribution network, all the way to the point of consumption – you can easily understand KPIs and KQIs on customer level, including customer quality of experience.
Our solutions enable faster time to repair, proactive management of network and service performance issues, as well as efficient change and release management to drive increased customer satisfaction and improve operational efficiency.
Read more about how our solutions empower your organization with awareness and insights that drive operational efficiency and improve customer satisfaction.
Would you like more information, a demo or to meet up at ANGA COM? Contact us.
Agama selected by UPC Hungary for Quality Assurance
Telenor extends cable service assurance with Agama