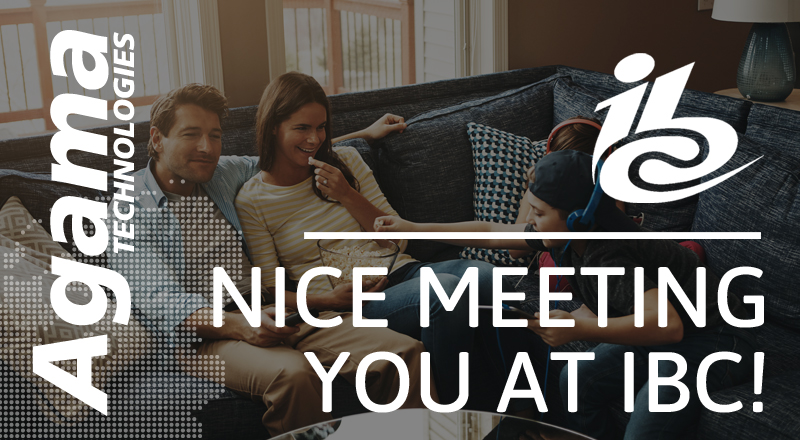 IBC2018
14 April, 2018
IBC2018 is over for this year! A big thank you to all of you that met up with us during the show! 
We showcasede our industry-leading solution for real-time video assurance, analytics and monitoring, including new and innovative ways to analyze and visualize video performance and consumption, creating unique insights into the complete delivery chain with Agama 360 Analytics. Our solution empowers operations, product management, marketing and customer facing teams to drive customer satisfaction, lower operational costs and increase agility.
IBC2018 highlights
Agama 360 Analytics
For outstanding situational awareness, see our new, unique approach to visualization and analytics, for direct correlation between service performance for head-ends, CDNs, ISPs and Apps.
Read our Agama 360 Analytics press release for more information. 
Remote PHY monitoring for next generation cable services
The all new remote PHY monitoring capabilities of the Agama Analyzer give full insight into the DEPI streams, from the CCAP core towards the remote PHY, ensuring that any issues in stream or content integrity can be detected.
By analyzing from the DEPI layer into each and every transport stream, the Analyzer can provide complete transparency and insight into all steps of the delivery chain.
With powerful visualization and alarming, and with detailed metrics on the DEPI layer, the Agama Analyzer is the right tool for assuring stream quality in modern cable deployments.
Read our Remote PHY press release for more information
Automated anomaly detection
Self-learning anomaly detection at scale pinpoints issues and out of the ordinary behaviour in the delivery chain.
OTT and Multiservice head-end assurance – ad-insert, virtualization and content level perfection – for IPTV, OTT, Broadcast and Cable
The modern head-end creates and processes a multitude of advanced services: Ultra-HD/4k, SCTE-35 ad-inserts as well as creating content for multiple platforms and screens. Head-ends are also quickly transitioning to cloud and virtualized environments in order to increase agility. To maintain customer satisfaction in a complex environment, it is vital to have full transparency throughout this process.
With the flexibility to deploy on-prem, cloud or hybrid – including containers – and support for fully automated deployment, Agama can monitor your services wherever they are created.
Containerization for efficient and agile deployment
The continuous evolution of OTT and other video services increase demand for flexible deployments and operations. Agama's solutions offer full support for cloud-based and containerized services throughout the operator's production environment, covering virtualized in-house deployments as well as public cloud environments, such as AWS and GCE.
 Read our press release – Support for cloud-based and containerized services
Download our Exhibitor preview IBC2018 (pdf)
IBC is the world's most influential media, entertainment and technology show. Six leading international bodies are the partners behind IBC, representing both exhibitors and visitors. In its 50th anniversary, IBC2017 had a record attendance attracting more then 57,000 attendees from 170 countries around the world, exhibiting more than 1,700 of the world's key technology suppliers and showcasing a debate-leading conference.